As I begin writing this post, I am genuinely smiling for Quintessence is getting its first ever recipe, complete with pictures and instructions (ahem, dare I say it is
I
who is doing the instructing?).
Talk about strange turns and thematics.
But lets get down to business. As an avid recipe-hunter, I tend to skip right past all the long, excruciatingly long introductions to recipes online and get right into the heart of the matter: the heart being the ingredients, the measurements, the STEPS. Yes, the 1, 2, 3, 4, 5 STEPS. Make it clear 'n' easy, folks.
So, here we have it.
Ü's Power-Pizza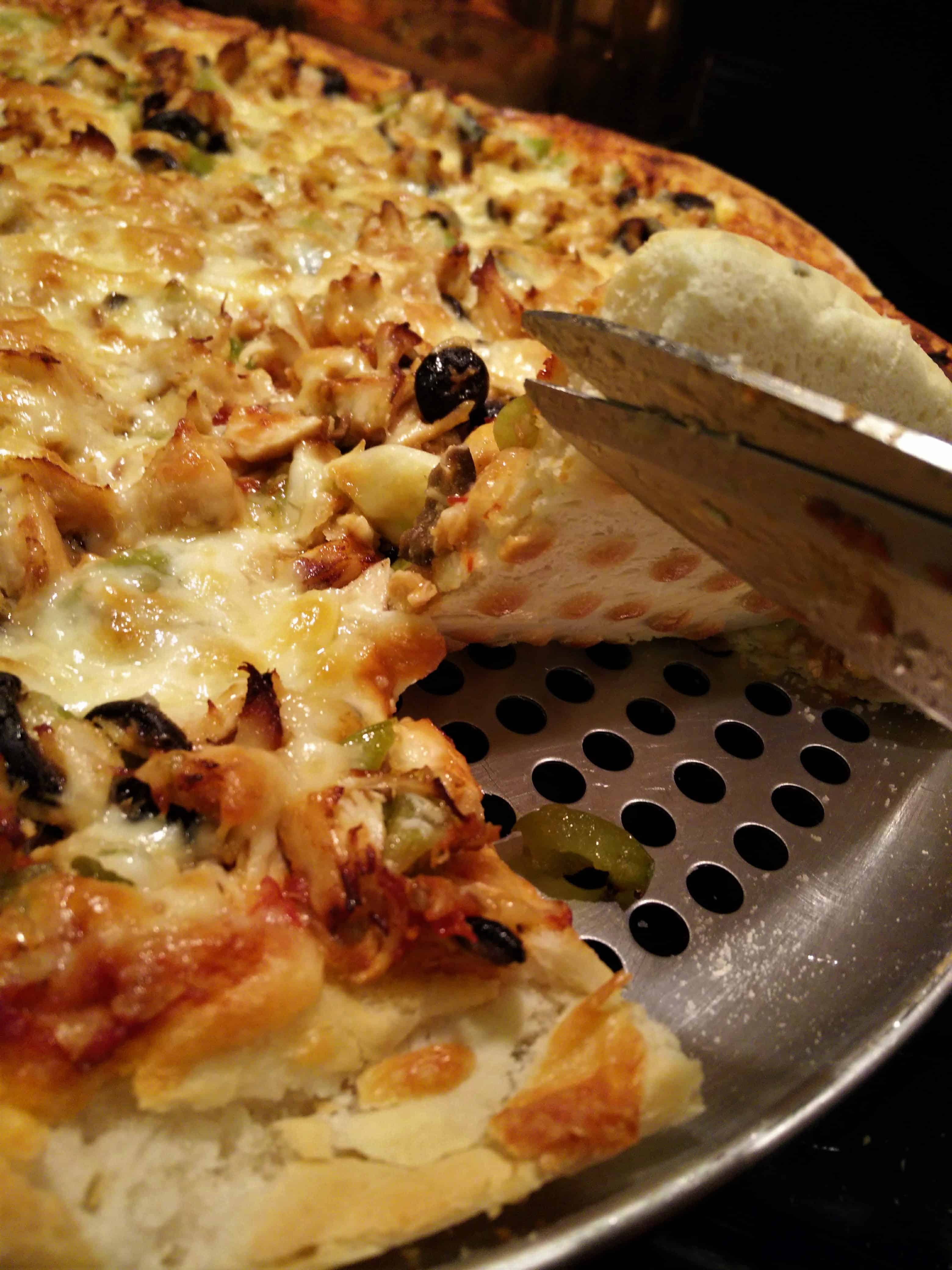 Ingredients
For Pizza Crust
4 cups white, unbleached all-purpose flour
1 teaspoon kosher salt
2 tablespoons olive oil
2 teaspoons instant yeast
2 teaspoons granulated sugar
1 cup warm water
2-3 cups additional water for mixing
2 teaspoons black seeds (optional)
For Chicken Topping
4 tablespoons canola oil
1 large onion, chopped
2 large tomatoes, diced
2 medium-sized bell peppers, sliced
1 teaspoon cumin powder
1 teaspoon dried coriander
1 teaspoon turmeric
2 teaspoons salt
1 KG boneless chicken, diced
For Vege-Cheese Layer
1 large green pepper (capsicum), chopped into cubes
1 cup black olives, sliced thinly
 700g mozzarella cheese, shredded
For Pizza Sauce
I use a generic canned pizza sauce. Alternatively, crushed boiled tomatoes mixed with oregano and basil leaves are a good homemade option.
Instructions
In a small bowl, mix yeast, sugar and warm water. Cover bowl with a dark cloth for 2 to 5 minutes, or until a layer of off-white foam forms on the surface. (Note: If foam fails to form, it is indicative of a non-active yeast and therefore, it is possible that your dough will not rise).
In a separate large bowl, mix together flour, salt, olive oil and black seeds. Pour yeast mixture in the centre and fold in the flour. Keep adding water while mixing flour (use hands if necessary) until the texture is fluffy and moist. Knead and scrape dough from sides of bowl. Cover and set aside for at least 30 minutes.
Meanwhile, in a non-stick pan, heat oil on a medium-flame. Pour in onions and fry until golden brown. Add cumin powder, dried coriander and turmeric. Immediately following this, add chicken; make sure this process is quick because we don't want the cumin, coriander and turmeric to burn. Cover the pan.
Note: Now will be a good time to preheat oven to 400 degrees.
Once the chicken turns a white hue on all sides, add salt, tomatoes and bell peppers. Cover the pan. Let chicken cook on medium-flame for about 15 to 20 minutes. Once the chicken is tender, uncover pan and let the tomatoes simmer and dry off. The end result should be a caramelized, thick "curry". Pour chicken mixture in an open plate to let cool.
Back to the dough: Split dough into 4 and shape into rounds. Grease a large, round pizza pan, and roll out dough onto it. Using fingers and palm, stretch dough across the surface until the dough is approximately 1 inch thick. Spread pizza sauce on the surface (as desired).
Using a manual potato masher or a fork, reduce any remaining large chunks of chicken into small pieces. Add olives and green pepper. Combine.
 Spread handfuls of chicken and vegetable mixture over sauced surface. Finish with a spread of cheese, any amount desired. (The cheesier, the better, is what I say!)
Insert pizza into oven; place on middle rack. In approximately 25 minutes, the cheese should be melted and the crust should be a golden brown, doubled in size. At this point, move the tray to the top rack and turn the oven on broil. I beseech you, please sit right in front of the oven with your face at the glass door while you watch the cheese turn brown. Broiling can mean instant burning: an outcome that can be the killer of all your dreams. As soon as the cheese is light brown, take the pizza out and place on a cooling rack.
Repeat process for the remaining dough.
Slice pizza into triangles and serve hot, cheesy, steamy and toasty with your favourite drink!
Allow me to end with J.A. Konrath's wry humour of Whiskey Sour:
"Sorry to hear about your Dad."
He shrugged. "He was seventy, and we always told him fast food would kill him."
"Heart attack?"
"He was hit by a Pizza Express truck."